First, my non-spoiler review of
Star Trek
. I pay a very high compliment to the producers, cast and crew of Star Trek when I say this. They get it.
They get it. Ten minutes into the movie I was in tears of happiness. Chris Pine is
so
Captain Kirk. That
was
young Mr. Spock up on that screen. That
was
Uhura. That
was
Dr. McCoy. If you were worried the young actors won't live up to these classic, canonical, mythical roles, these
family members
for chrissakes, forget about it. They know who they are playing. They know what it means to us. They get it. They're excellent.
I don't think this particular cinematic trick -- recreating familiar characters in backstories from their youth -- has ever been done better, or even nearly as well. In other films it has come across as cheesy and contrived.
In
Godfather II
, for example, we see young Vito Corleone hooking up with his future caporegimes Tessio, Clemenza & Tom Hagan for the first time. The first time the Godfather ever says, "I'll make him an offer he won't refuse", it falls flat. Not even DeNiro could make it work. In the first
Star Trek
movie, each character was reintro'd with some familiar riff from the original TV show (e.g., McCoy bitching about his atoms being scattered in the transporter). That whole shtick works much better this time around. So I give Star Trek five stars for living up to the Star Trek legacy-- that's the most important thing, right?
And three stars for the story and action on its own terms. The big star battles are very cool. See it on IMAX if you can, there's massive action and it all looks great. I can't imagine seeing
Star Trek
through the eyes of a non-trekkie, but I'd bet its still a lot of fun.
That's four stars! Go see it!
Below the pix is my spoiler review.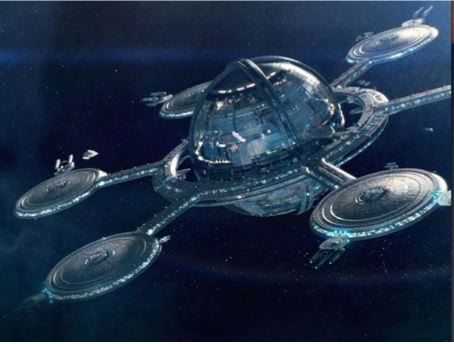 SPOILERS BELOW!
The weakest part of Star Trek is this idiot villain Nero from the 25th century. I'm not a continuity whore, but this small-minded dope could never rise to command a Romulan vessel. The Romulans are aggressors, vicious and arrogant, but they've never been petty or completely lacking in honor. This aptly named moron blames Ambassador Spock for the destruction of Romulus in a supernova and decides to go back in time to commit galactic genocide in revenge. He's not even charismatic, half the time you can't tell Nero from his Romulan officers. Non-descript! Non-Romulan!
Now to the good stuff.
Star Trek
hits the sweet spot with the ultra-Shatnerian re-enactment of the
Kobyashi Maru
'no-win' training simulation. If you're hardcore like I am, this scene goes down like ectasy. We all know the story from
The Wrath Of Khan
, where Kirk lays out his command philosophy, and the death of Spock. Kobyashi Maru goes deep--I mean
really
deep--into Trek mythology. I'm biased, I'm a trekkie. I'd give Chris Pine an Oscar for one of the funniest, most delicious, and arguably most vital scenes ever in sc-fi.
Captain Kirk and Mr. Spock. It doesn't get any deeper in our pop culture than this--is there a deeper, more illuminating bond? There's a little continuity glitch: we never knew before that Mr. Spock programmed the Kobyashi simulation at Starfleet Academy. In
Khan
, Spock says he never took the training test, and seems only remotely familiar with it. That's okay. The writers tweak continuity to give us one helluva philosophical smackdown between Kirk and Spock over the deep meaning of Kobyashi Maru.
The idea here is Spock and Kirk butt heads as Academy pups but learn to respect each other. Eh. I always thought they were a match made in heaven, Spock at complete peace following Kirk's lead. In the original TV series, Spock's command abilities were suspect. In
The Tholian Web
, Spock in command needs help from Mr. Scott because he doesn't want to use the phasers. In
All Our Yesterdays
, Spock feebly submits to some twit ambassador citing Starfleet regulations. And in
The Galileo 7
, Spock's shuttle crew comes close to mutiny.
In this film, Spock does predictably poorly in command. It's not likely Captain Pike would leave young Spock in charge during a major crisis. But it does lead to another dramatic smackdown when Kirk has to wrest command away from Spock. So I guess a little glitch is worth it.
Actually, I don't think the writers did 'Captain' Spock justice. Spock's command shortcomings mainly had to do with his moral discomfort with killing and his difficulty relating to his illogical human officers. But Spock never lacked for boldness. This is the same Vulcan who came up with the crazy idea to 'go back in time, find humpback whales, bring them forward in time, drop them off, and hope they tell the alien probe what to do with itself.' Spock would never go, 'hey, our number one wimp priority is to re-establish communication with Starfleet' while this nut Nero is targeting Earth with Red Matter. So that's one bit of the story that could have been truer.
The Spock-Uhura as lovers thing, whoa! Double-whoa! Only a real dope would complain about continuity here. I say go for it. Get some, Mr. Spock.